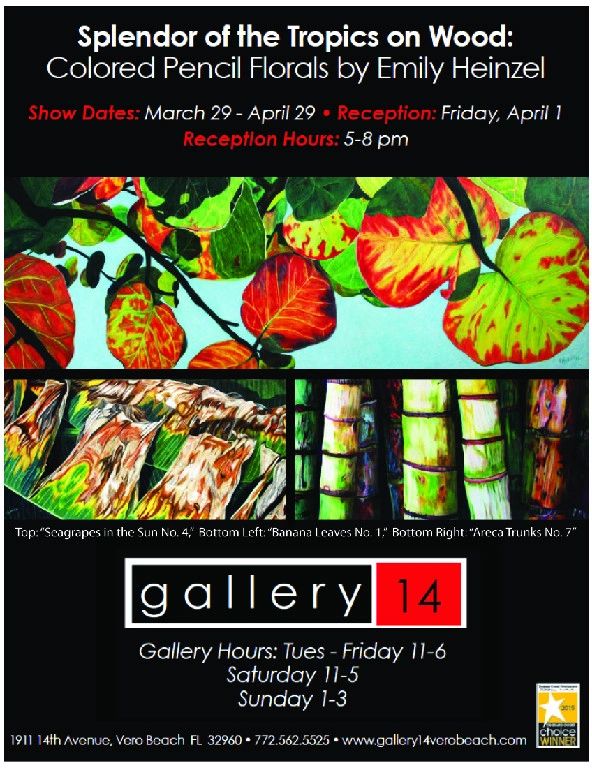 MARCH 29 - APRIL 29, 2016


Please come to my solo show at Gallery 14 in Vero Beach, "Splendor of the Tropics on Wood: Colored Pencil Florals by Emily Heinzel." There will be many new smaller pieces in this show to purchase! The reception for this show is Friday, April 1, from 5 - 8 PM. See you there!
(772) 562-5525



In MARCH 2014!

* Please see my work on the front cover in this month's issue of Senior Scene!


* Focus, on Bright House Networks Channel 49, will be airing a 30-minute interview with me. The show is hosted by Cindy McKee. The show highlights both my colored pencil on wood and some of my past hand-fabricated jewelry designs.
Monday, March 10th at 8 PM
Wednesday, March 12th at 7:30 PM
Thursday, March 13th at 6:30 PM
I hope you can watch it!
* I have a few drawings hanging at Lexus of Melbourne for a four-month installation through the BCA starting March 21st.
I also have pieces hanging at the Space Coast Cancer Center in Viera for a four-month installation through the Brevard Cultural Alliance, starting on February 17th. A 20% contribution of all sales will benefit the Cancer Center.
* I have several drawings on display at Gallery 14 during the month.
DECEMBER 2013

Thank you to Michelle Genz for writing a terrific article about my work in the December 26th edition of Vero Beach 32903. A copy of the article is above:




JANUARY 2014

"Splendors of Nature: Tropical Florals by Emily Heinzel & Landscapes and Pastels by Dawn Miller"

Thank you all for coming to this fun event! It was great catching up with and meeting you.

Gallery 14
1911 14TH Avenue
Vero Beach, FL 32960
(772) 562-5525
Tues-Fri 10-4
Sat 10-3




GALLERY 14 & 14 1/2 1911

14th Avenue
Vero Beach, FL 32960
(772) 562-5525

FEBRUARY 2013
It was a pleasure meeting all who came to "Dramatic Interpretations" at

Gallery 14.




OCTOBER - DECEMBER 2012

I am now represented by the Art Fusion Gallery in Miami. My work was displayed in the "Fusion IX – Seducing The Globe" exhibition at the Art Fusion Gallery, October thru December during Art Basel. Thank you all for seeing my work!

Art Fusion Gallery
1 NE 40th Street #3
Miami, FL 33137
(305) 438-9006

http://artfusiongallery.com

More about Art Basel

From December 6 through 9, Miami Beach, Florida, will host the 11th edition of Art Basel Miami Beach, the most prestigious art show in the Americas. More than 260 leading galleries from North America, Europe, Latin America, Asia and Africa will take part, showcasing works by more than 2,000 artists of the 20th and 21st centuries.

The exhibiting galleries are among the world's most respected art dealers, offering exceptional pieces by both renowned artists and cutting-edge newcomers. Special exhibition sections feature young galleries, performance art, public art projects and video art. The show will be a vital source for art lovers, allowing them to both discover new developments in contemporary art and experience rare museum-caliber artworks.

Top-quality exhibitions in the museums of South Florida and special programs for art collectors and curators also help make the event a special time for encountering art. And every year, a greater number of art collectors, artists, dealers, curators, critics and art enthusiasts from around the world participate in Art Basel Miami Beach - the favorite winter meeting place for the international art world.

We look forward to welcoming you at Art Basel Miami Beach 2012.



FEBRUARY 2012
I had a one-person show "Tropical Leap" at Corner's Custom Framing & Gallery with a fun reception on Leap Day, Wednesday, February 29th, 2012. 5PM - 9PM. Enjoy catered food and wine. Thank you for coming!



JANUARY 2012
I participated in a three-person show "Many Splendid Things" at Gallery 14 January 10 - 28. My work was shown along with oil paintings by Jan Taylor and photography from Africa by Jane Howard. The reception date was January 20th from 5 - 8 PM. It was great meeting and seeing you!
DECEMBER 2011
I participated in "My Beautiful Ocean," a Gallery 14 exhibition benefitting Harbour Branch Oceanographic Institute, which helps restore our ocean and save wildlife from the gulf oil spill. 20% of the sales from this event will be donated to the charity! There were two receptions for this show: December 2 and January 6 from 5 - 8 PM. Thank you for coming!
AUGUST 2011
Four of my limited-edition giclees went up for raffle or silent auction benefitting the St. Coletta's Foundation of Illinois benefit, the 21st Annual Kennedy Invitational Mens Golf Outing at Crystal Tree Country Club and
the 15th Annual Kennedy Invitational Ladies Golf Outing
at Prestwick Country Club, August 8th and August 29th.
Thank you for helping raise money for the St. Coletta's Foundation!




I had a one-person show "Tropical Fireworks" at Corners Custom Picture Framing and Gallery through the end of June, 2011. The reception was Thursday, June 30th, from 5PM - 9PM. Break out your best Hawaiian, Tacky Tourist or Beach outfit for a chance to win great prizes! Enjoy delicious catered food from Giovanni's Restaurant and Schakolad Chocolates along with a complimentary wine bar. Thanks for being there!